Everyone dreams of a walk-in closet with space for every piece of clothing and accessory, but what if you're working with a cozy closet space instead of a colossal one?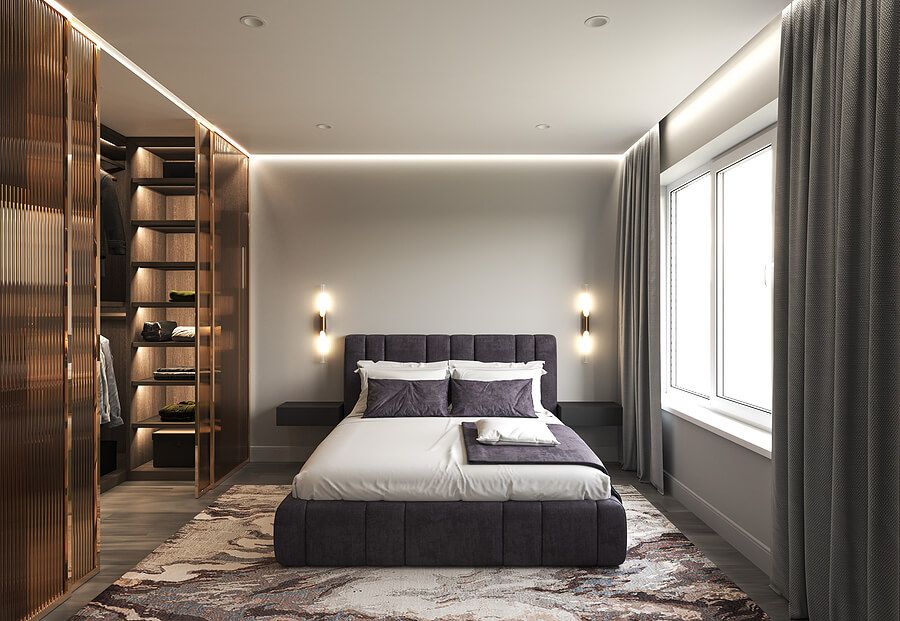 A small closet doesn't mean you must give up on an organized storage system. It just means you have to get a little creative with the space to ensure that your clothes, bags, shoes, and other accessories have a space to call home.
If you're in the market for a small closet makeover or need some small custom closet ideas, consider some of these strategies to expand your closet's potential.

Re-imagine the space
Start by taking everything out of your closet and looking at the space you have. Sometimes, this can help you re-imagine how you might use the space rather than relying on the same old storage techniques. And don't be afraid to try something new. For example, taking the door off your closet might give you a little more space - and upgrade the look of the closet, too!
Organize closet contents
When it comes to making the most of a small space, it helps to organize everything before putting things away. Lay out all the items in the closet to visualize what kind of space or storage solutions you'll need. It also helps to categorize your items. Separate types of clothes (cold weather items, work clothing, workout gear, etc.) to make it easier to organize within the closet.
Integrate shelves
Shelves are one of the most efficient storage solutions for a small space. Even a small custom shelving system in your closet can double the amount of storage space you're working with. Stack folded clothing on shelves or use baskets to hold small items in one place.

Use baskets and bins
Small custom closets benefit from baskets and bins to optimize every inch of a small or awkward-sized room. If you have accessories like belts, scarves, mittens, slippers, or hats that don't have anywhere to go, these containers can be a lifesaver. With so many different-sized baskets and bin options, you can find a container for almost any space.
Don't forget the top shelf
Most of us forget to look up in our closet, which means overlooking great storage possibilities. If your closet has a top shelf, use it wisely: stack items in containers to ensure they're easily accessible. If space is above your closet door or clothes rack, add a top shelf in small custom closets to create even more storage possibilities.
Hang items on walls
Don't forget how helpful closet accessories can be in a small closet. You can hang items like ties, scarves, and belts on the wall with hooks and hangers. This is a great way to get items off the floor or out of boxes so you can see your accessories before you get dressed.

Use the back of the door
If you leave your closet door in place, take advantage of its storage potential! The back of a closet door is another perfect place for accessories like hangers or hooks. You can easily put items like hats on the back of the door, where they'll be out of the way but easily accessible.
Re-home items
If all your items still won't fit in your closet, you can always re-home accessories or items that won't be used immediately. The easiest way to do this is to think seasonally. In the summer, trade out your winter clothing items and store them elsewhere, and vice versa in the winter. Reviewing your clothing and accessories at least once per season can help determine if anything can be donated.
It can be difficult to make a small closet feel like there's enough room for clothes, accessories, shoes, and more. But so many custom closet ideas for small spaces will help you make the most of any closet space. With creativity and custom closet magic, your small closet can keep all your items neat, organized, and aesthetically pleasing. If you want to create the custom small closet of your dreams, contact Artisan Custom Closets today to see how we can transform your space.