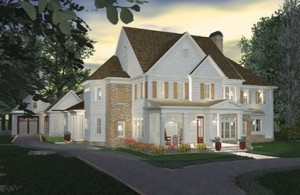 Get ready to mark your calendar because we have great news to share about an upcoming event: Evelyn Olah, senior designer at
Artisan Custom Closets
, is one of the designers for the
Roswell Woman's Club's 16th annual Showcase Home Tour
, which will take place April 29 through May 20. The showcase home is called Home Plate since it belongs to former Braves player Mark Wohlers. As the Roswell Woman's Club explains on its
website
:
"Destroyed by fire in 2011, the Wohler's family residence is now being rebuilt with a purpose. Home Plate has a legacy of gratitude for the Wohlers and through this fundraiser they are expressing their deep appreciation for the community who 'came to bat during their tragedy."
For more information about the Showcase Home Tour, including ticket information, times, and corresponding events, visit the
Roswell Woman's Club website
. We hope you'll be able to see the showcase home!