The mudroom, often overlooked and underutilized, can be more than a transitional space between the indoors and the outdoors. You can transform it into a functional haven by integrating intelligent design and optimal storage solutions. Below are some ideas about mudroom furniture, organization, and custom cabinets that can make all the difference.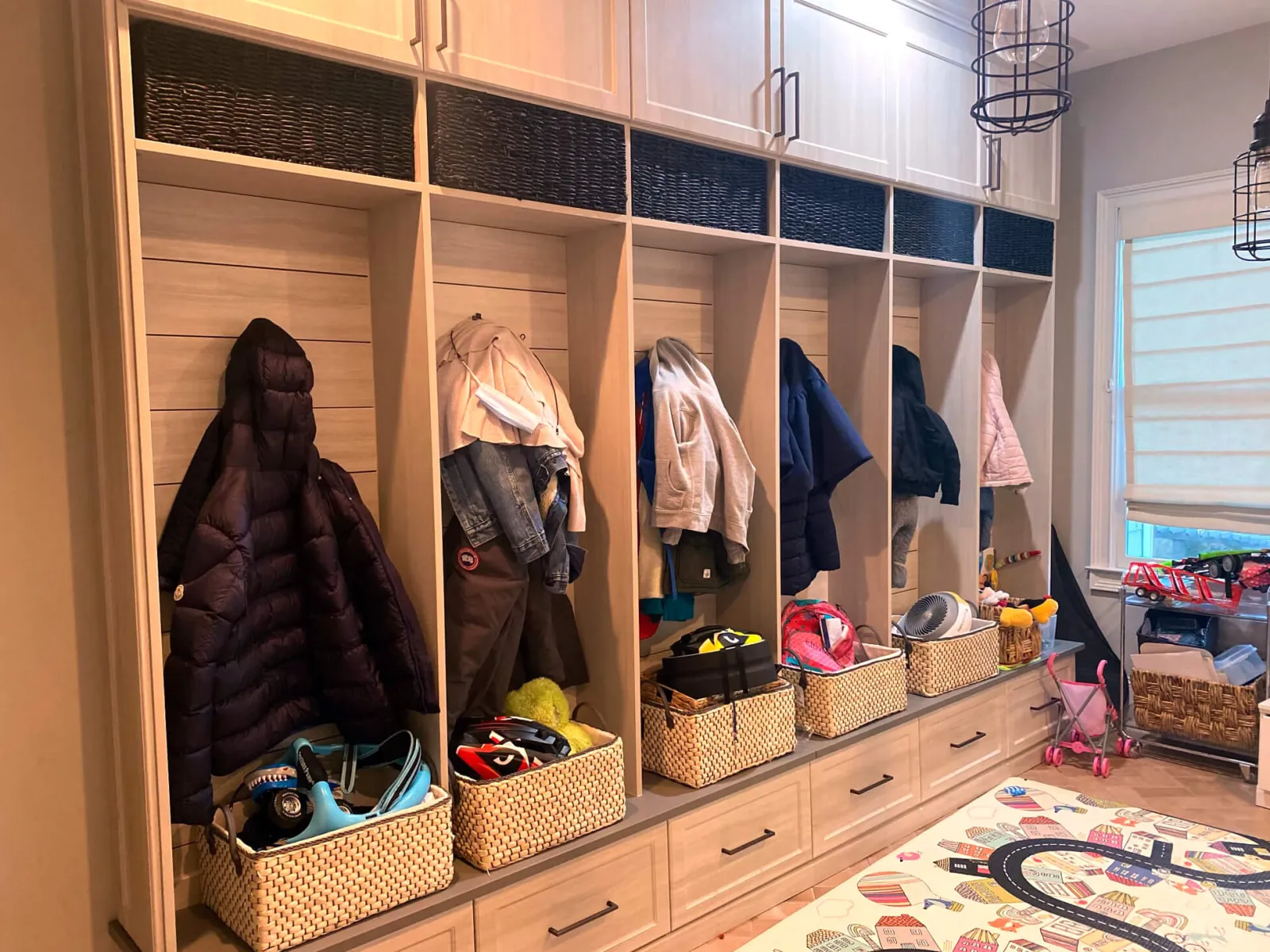 Mudroom Furniture: Practical and Stylish
When selecting mudroom furniture, consider a blend of functionality and style. A sturdy bench allows family members to sit down while putting on or taking off shoes. Pair it with matching storage bins underneath to hold shoes, seasonal gear, or pet supplies. Invest in a durable, easy-to-clean rug that can endure the constant foot traffic. Multi-purpose furniture, such as benches with built-in drawers or a coat rack with a storage shelf, can save space and add aesthetic appeal.

Mudroom Organization Ideas: Zones and Labels
To maximize utility, break down your mudroom into distinct zones. Designate one area for hanging coats and bags, another for footwear, and a third for miscellaneous items like umbrellas or hats. Use clear labels to make sure everyone knows where things belong. Install a few hooks at a lower level for children to reach easily, encouraging them to be responsible for their belongings.

Mudroom Cabinets: The Backbone of Your Space
Cabinets can be game changers when it comes to storage and organization. Opt for cabinetry that rises from floor to ceiling to make the most out of vertical space. Open shelves can be great for frequently accessed items, while closed cabinets can store seasonal items out of sight but within easy reach. The beauty of cabinets is they can also become a design feature; paint them a contrasting color or finish them in a rustic style to add character to your mudroom.

Custom Mudroom Cabinets: A Tailored Solution
Custom mudroom cabinets may be the answer if your mudroom has awkward dimensions or specific storage needs that off-the-shelf solutions can't meet. Custom-designed cabinets can fit into any nook or cranny, fully utilizing available space. You can tailor the compartments to fit specialized items like sporting gear or oversized bags. You'll get a perfect fit and the freedom to choose finishes that seamlessly integrate with your home's aesthetic.

Extra Tips for a Well-rounded Mudroom
Maintenance: Choosing suitable materials for your mudroom can save you time and effort in the long run. Opt for surfaces that can be easily wiped clean, such as tile flooring or laminated wood. These materials not only stand up to moisture but also make it simpler to remove mud and dirt.
Lighting: Inadequate lighting can make even the best-organized mudrooms a hassle. Overhead lighting, such as recessed cans or stylish pendant lights, can cast a broad glow across the room. Good lighting is often overlooked but is essential for functionality. Install overhead lighting and consider adding under-cabinet lights to illuminate dark corners.
Mirror: A wall-mounted mirror is not just for last-minute appearance checks but also makes the space look bigger and brighter.
Charging Station: A charging station is more than a modern convenience; it's necessary for our gadget-driven lives. Dedicating a small corner of your mudroom for charging ensures that everyone leaves the house with fully powered devices. To make it even more functional, consider installing USB outlets directly into the wall, freeing up standard outlets for other uses. You could also incorporate wireless charging pads into a countertop or shelf, making the space doubly efficient.
Message Board: Consider installing a chalkboard or corkboard for essential reminders or cute messages. This adds a personal touch and helps keep everyone organized.

Adopting these mudroom organization ideas and investing in functional furniture and custom cabinets allows you to turn your mudroom from a chaotic catch-all into a structured, harmonious space that serves your family's needs. And who knows? You might even look forward to coming home to enjoy your beautifully organized mudroom. Contact Artisan Custom Closets to get started.