Thanks for printing! Don't forget to come back to Artisan Custom Closets for fresh articles!
Our Team
Meet Our Team

People making a difference . . . Artisan Custom Closets wants to help you build the closet of your dreams! We work in large closets and small closets, and have been known to make storage space where none previously existed! Please take a moment to get to know your closet designer. Our experience in the field, coupled with our precision manufacturing and experienced installation staff, ensure the best possible experience from design to installation.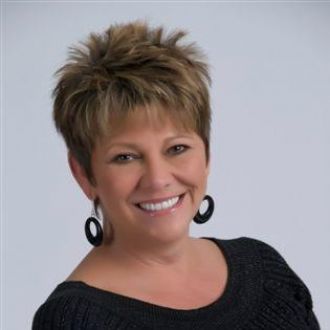 Lisa Carlquist, President
Lisa has more than twenty years experience in the custom closet and storage industry. She formed Artisan Custom Closets in 2008 and vowed to make Artisan the BEST custom closet company in the Atlanta market! Lisa has taken it to new levels by hiring the most experienced space planners, designers, engineers and installers in the Atlanta area.
Lisa is a Registered Storage Designer through the Association of Closet and Storage Professionals and has created spaces for some of the most visible clients in Atlanta and designed many show homes including the Atlanta Magazine Dream Home and the Roswell Women's Show House. Her experience includes designing spaces for speculative homes and custom homes with some of Atlanta's premier homebuilders and remodelers.
Lisa's daughter, Stephanie, works for ADP in Manhattan, NY. Lisa lives in Kennesaw, Georgia, with her husband, Jeremy.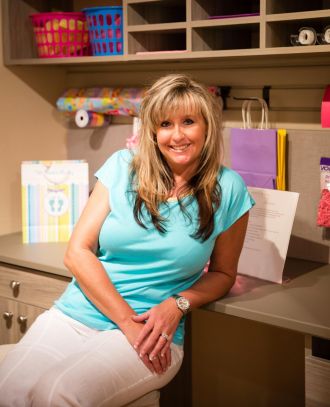 Alley Sandy, Sales & Design Manager
Alley is originally from the Fayetteville, Georgia area and now resides in Kennesaw with her family. In her personal life, Alley is an "organizational freak!" She loves to find the best use of space both for function and design. Alley says that when she helps clients organize and customize their space she feels a real sense of accomplishment.
With a background in design and 16 years as a business owner, Alley has been organizing and enhancing space functionality for 20 years. As the Sales & Design Manager for Artisan Custom Closets, Alley's specialty is to provide clients with an outlet for turning their ideas, needs and desires for cluttered or unproductive closets, pantries, offices and garages into a beautiful new reality. Her favorite part of the process is sitting down with her clients to help them turn their dreams into a design and final installation that exceeds their expectations, every time.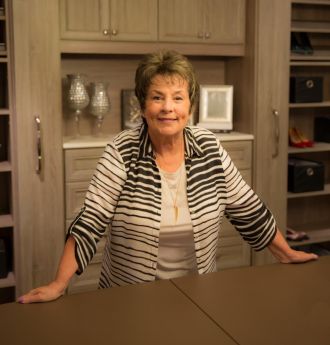 Lesley Baldwin, Senior Design Consultant
Lesley lives in Marietta, Georgia, but originates from England. Lesley is personally involved in her customers entire project every step of the way, from the very first design concept to the final installation. She says "I like to think that I'm my client's personal guide through what can be a very confusing process. My goal is to exceed their expectation; take away any stress and make it fun!"
Lesley spent 20 years in the corporate environment before deciding to change directions and joined a custom closet company 16 years ago. It took her a few years to find the right company, but "now that I'm here, I can honestly say I haven't worked a day since – I love what I do!"
Her belief is that you should INCLUDE EVERYTHING you've always wanted in a master closet design because this is where you will set the tone for your day-to-day life. This should be a well-organized and calm space where practically every item is visible. This is your personal space and should be a gift to yourself.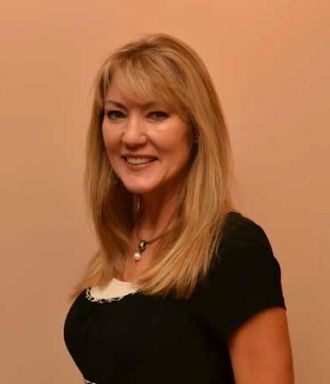 Cathy Davis, Senior Design Consultant
Cathy lives in Sandy Springs, Georgia, and is currently in her 20th year of closet design! She previously worked in the window covering business and decided to turn one of her bedrooms into her closet (a "room conversion"). In getting her own closet customized, Cathy realized that it was a business she wanted to be involved in and she has never stopped!
Cathy's favorite part of the closet design business is hearing how much the customer loves their new closet. She works hard and is extremely dedicated to attending to each customer's personal needs. She says "it is rewarding knowing that I am responsible for a terrific outcome."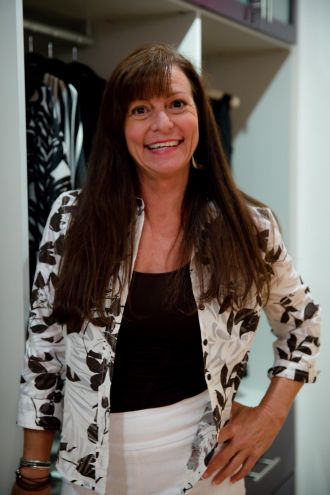 Vicky Remole, Senior Design Consultant
Vicky brings more than 10 years of experience as a "Closet and Storage Designer", along with a huge following of satisfied and loyal customers in the metro Atlanta area. Vicky has developed great expertise in designing custom closet and storage solutions, whether it's a simple linen closet or the most elegant dream closet. What Vicky loves most about her work is the ability to bring peace and order to her customer's lives, making for a "life changing experience".
Vicky lives in Woodstock, Georgia, and loves to cook and spend time with her friends and family.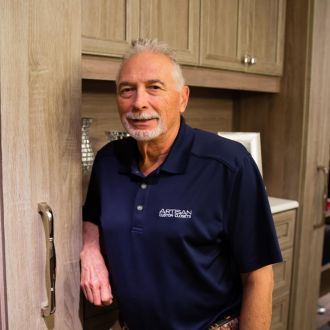 Bob Kammerer, Senior Design Consultant
Bob says "I wanted to be an architect when I was young, but my profession took me in a different direction. Thirteen years ago, I had the opportunity to move into the design and space-planning arena. I love the challenge that each new job brings."
Bob lives in the Reynolds Lake OConee Community and services the Lake Oconee area. Bob works with most of the major builders and is a member of the Lake Oconee Area Builders Association. He has designed storage solutions for over 800 homes in the Lake Oconee area and he loves it when clients tell him "they like their new home but they LOVE their new closets". Customer service and satisfaction are his number one goal.
Madeleine Polan, Senior Design Consultant
Madeleine and her husband live in Cumming, Georgia. Her background in Interior Design gave her a great head start when it came to closet design. Madeleine initially wanted to be an architect, but loved space planning and 30 years later is still designing closets and organizational systems. Her background in interior design gives her that special touch when it comes to making a closet feel like a warm, dream space. She says "I love the challenge of helping clients organize their closets, offices, pantries, garages, etc. so that it allows them to easily deal with their busy schedules and have fun living without the worry of unorganized space within their living structures."
Madeleine has worked for several design companies specializing in closet systems during her time in Georgia, but says Artisan Custom Closets is her last job!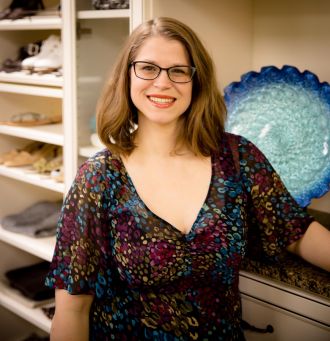 Maggie Horie, Senior Design Consultant
Maggie was born and raised on a cattle farm in Winder, GA. She now lives in the Duluth area with her husband and two daughters.
Her passion for helping other people originated from her days as a personal shopper at Nordstrom. There, she learned to work closely with clients to capture their style and personal taste. She successfully grew a client base that trusted her with filling their wardrobe.
That passion grew further when she started working in the closet industry several years ago. She uses her experience with suiting peoples needs to listen and capture exactly what her customers are looking for in a closet. She prides herself on making "not only a pretty closet but a functional one, also." Maggie says she loves "helping people in general, regardless of the size of the project."
In her spare time, Maggie loves to work on DIY projects at home and is a self proclaimed "DIY-er". She enjoys working on home improvement projects and is very crafty around the house. She's also 'mildly' addicted to Pinterest and loves finding inspiration anywhere she can.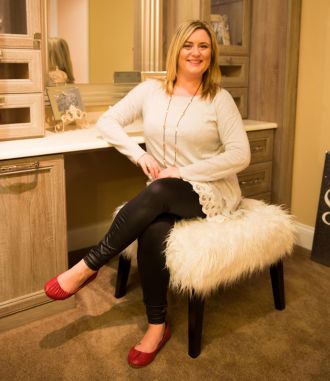 Brandi Doctoroff, Senior Design Consultant
Brandi is originally from Norcross, Georgia but has recently built a new home in Woodstock. She enjoys keeping everything in order, from not only her closet (which is organized by color—and sleeve length!) but even down to the labels on everything in her pantry!
While her parents would probably tell you that she wasn't the most organized kid, her college roommates would say differently. Not only does she love to organize, she loves to do anything DIY and is often heard saying "Joanna Gaines (from Fixer Upper) is my spirit animal!"
Brandi enjoys working closely with her clients to ensure that they receive a solution for all their needs. "The unit has to be extremely functional while also being beautiful. You start your day out in your closet, so it needs to look great!"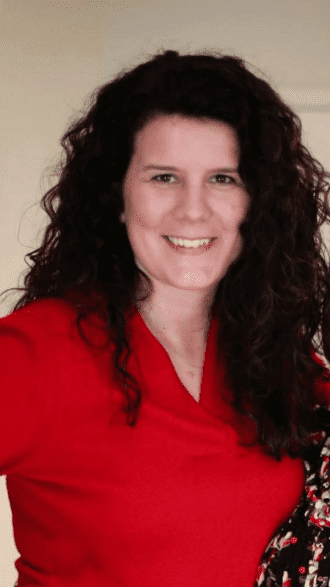 Nicola Anderson, Senior Design Consultant
Nicola's passion for remodeling and design started after purchasing a 'fixer upper' in Marietta, Georgia, several years ago. After being engaged in every minor decision from construction, trim, colors and organization, a desire to help others with similar projects developed into a career with the Artisan Custom Closets Design Team.
She lives in Marietta with her two children and enjoys being involved in every aspect of their busy lives, capturing every moment along the way through her love for photography. She enjoys landscape and sports photography the most but occasionally combines her hobby with work by photographing completed closet projects.
Meeting new people with a wide range of different needs and from extremely diverse backgrounds is her favorite aspect of working at Artisan Custom Closets. "Just seeing how different everyone's decorating styles and organizational behaviors are makes every day exciting and interesting! Knowing that I can help anyone regardless of their priorities, whether they need functionality of whether they just want a 'pretty' space is very gratifying!".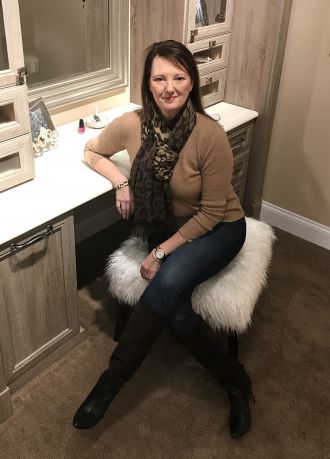 Dee Ann Cowan, Senior Design Consultant
Dee Ann is a true Atlanta native! Originally from the Jonesboro area, she currently calls Brookhaven home with her husband and their great pyrenees, Captain Jack.
She truly enjoys the role as Project Manager, working closely with clients to ensure the final design meets all their needs and exceeds expectations. She has a passion for helping clients see the plans on paper transform into something that is both spectacular and extremely functional. "I pride myself on being your personal consultant from beginning to end. I can't wait to see the look on your face once the project is complete. I know you're going to love it for a very long time!"
When not designing gorgeous closets & pantries, Dee Ann can be found running the streets of Atlanta training for half marathons or hiking with her husband and Captain Jack in Stone Mountain Park.
Alexandrea Bonds, Senior Design Consultant
Alexandrea is originally from The Big Apple, but has made Georgia her home for over 10 years now. Her love for designing started at a young age, and developed through her collegiate years. Equipped with an MBA in Project Management, her design training and a passion for organization, Alexandrea is ready to take on any project.
Alexandrea has always enjoyed meeting new people and keeping an organized lifestyle. She says, "I love seeing my clients faces light up when their dream closet, pantry, garage, etc. comes to life." When she's not designing, Alexandrea loves to spend time with her husband and son. She lives by the following quote, "People won't care how much you know until they know how much you care."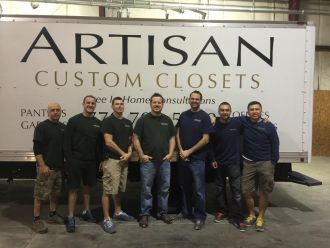 Our Installers
Our team of installers are the best in the closet and cabinet industry! But don't take our word for it, read our reviews! Each installer undergoes a background check to ensure your family's safety and continuous training keeps them on top of their game. New construction . . . no worries! Our closet installers take every measure to make certain that your flooring and walls are protected. They are highly trained in working in new construction homes, homes under rennovation, or organization in your existing home.