Pantry Organization Begins with Smart Planning
Every family has unique kitchen pantry needs. That's why custom pantry cabinets and storage units from Artisan Custom Closets are built precisely for you. To reflect the style of the rest of your kitchen, a member of our design team will help you choose from a variety of colors and finishes. Add unique touches and features to your custom kitchen pantry to make it truly yours, like stylish countertops and easier access to the tools you need daily. Artisan Custom Closets has free in-home consultations in both Atlanta and Nashville. Get started today!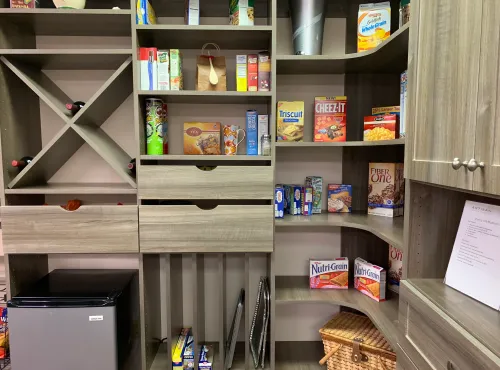 A Place for Everything
From sturdy shelves and stand mixers to blenders, wine racks, and tray storage, we give our clients exactly what they need every time. We can even design custom pantry cabinets with extra room for baking or food prep if needed.
Custom Pantry Shelving
Inexpensive wire shelving has long been the standard for pantry cabinets. To give your pantry an update, get rid of that white wire pantry shelving, and upgrade to solid shelves you can adjust as needed. When you're organizing pantry cabinets, you'll usually find that not all the items fit easily on a shelf. Your new pantry design can integrate handy baskets for small item storage, vertical slots to help keep trays and platters organized, or even special racks to store tablecloths so they are always unwrinkled and ready to use.
Easy Access
In addition to redoing the inside of pantry cabinets, our design team will make sure your pantry is more accessible with custom features to make life a little more organized. We know how frustrating it is to lose items for years in the back of a crowded pantry!
Find Out What Makes the Difference
Closets Look Fantastic
B. Imhulse
Roswell, Georgia