Contact Us For Your Pantry Solutions
Pantry Shelving
Experience Enjoyable and Stress-Free Meal Preps Every Day.
Efficient Custom Pantry Solutions
Plan and Stock up Smartly.
Working around a messy or unorganized kitchen is a daily life challenge. Going through all drawers, shelves, and cabinets to find the star ingredient of your dish can be frustrating and time-consuming. And things can get even worse as you find out at the last minute that you've run out of it and need to go to the grocery store first.
Spare yourself from all this stress and frustration. Benefit from our custom pantry solutions to:
· Organize your kitchen
· Optimally stock your pantry
· Make meal-prep and cooking efficient
Schedule a free pantry design consultation
Install Specialized Storage Systems That Fit Your Needs.
Aesthetically Pleasing. Exceptionally Functional. Incredibly Spacious.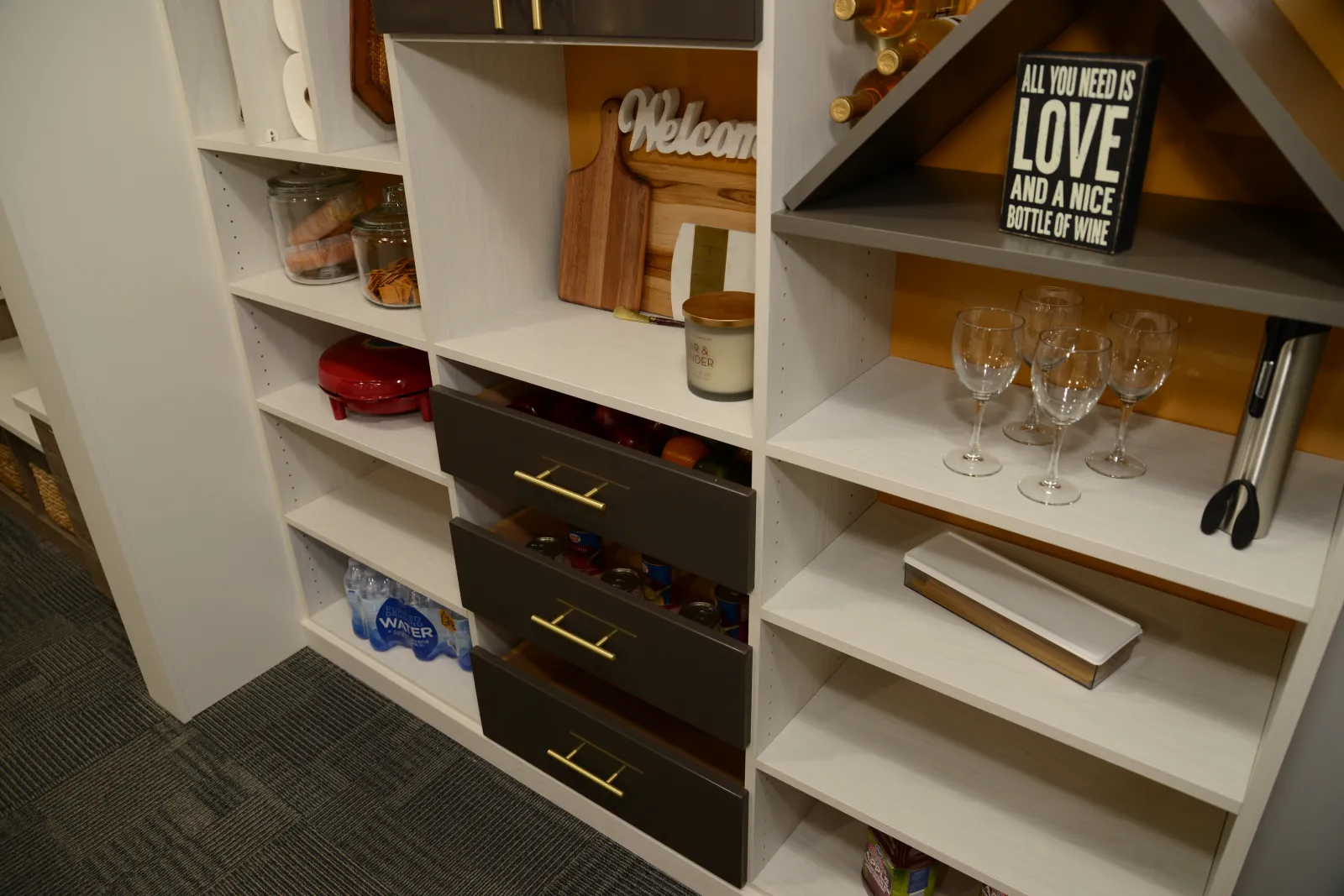 At Artisan Custom Closets, our custom pantry storage systems are life-changing. We provide you the freedom and flexibility to customize everything about your pantry, from the layout to the storage capacity, spice racks, tray dividers, roll-out racks, drawers with dividers, lighting, and anything you want with no limitation.
We give you the power to imagine and get your ideal storage system designed because we believe that your pantry is never too full or small to be organized. Our team ensures that your custom-built pantry:
· Fits your cooking style
· Provides you the efficiency you need to work your magic in the kitchen
· Gives easy access to kitchen items
· Makes meal plan and prep time stress-free, relaxing, and quick
· Seamlessly blends with and complements your kitchen's aesthetics
· Adds value to your life, and home
Experience Superior Pantry Organization Inch by Inch.
Extra Room for Everything.
Discuss your ideal pantry design with our designer. Let us know where and how you want your pantry items to be stocked. And we'll make sure that we provide you with a final design and product that delights you.
Our expert team has been creating pantry solutions for years. We have mastered the art of organization. Artisan Custom Closets can help you choose accessories and create a unit that provides maximum storage and a place for everything you want to stock, such as spices, table cloths, trays, baking sheets, utensils, wine bottles, and others.
Moreover, our team can add unique features and touches to your pantry unit to match and complement the look of your kitchen—blending in with the indoor design aesthetics harmoniously.
We extend our services to customers in and around Nashville, Franklin, and Hendersonville, Tennessee.