12 Months Same-As Cash-Financing!
Closet Organizers Nashville
You Envision. We Create.
Complete and Custom Storage Solutions As Unique As You, Your Lifestyle, and Your Needs.
Schedule a Free Consultation Today.
Designed For Functionality. Built to Envy.
Together, We'll Create the Custom Closet You Want.
At Artisan Custom Closets, we take the art of organization to a new level by designing closets and storage systems to your specifications. We provide you with a custom closet that:
· Optimizes every inch for maximum storage space
· Satisfies your design sensibilities
· Allows personal style to shine through
· Fits seamlessly into your home's aesthetics
Put simply, we can provide you storage systems that create usable space for everything you wish to store and in which everything is in its place. Hence, creating a clutter-free and well-organized home. Give us a chance to impress you with our custom closet creations.
We extend our services to customers in the Nashville metro area including Franklin, and Hendersonville, Tennessee.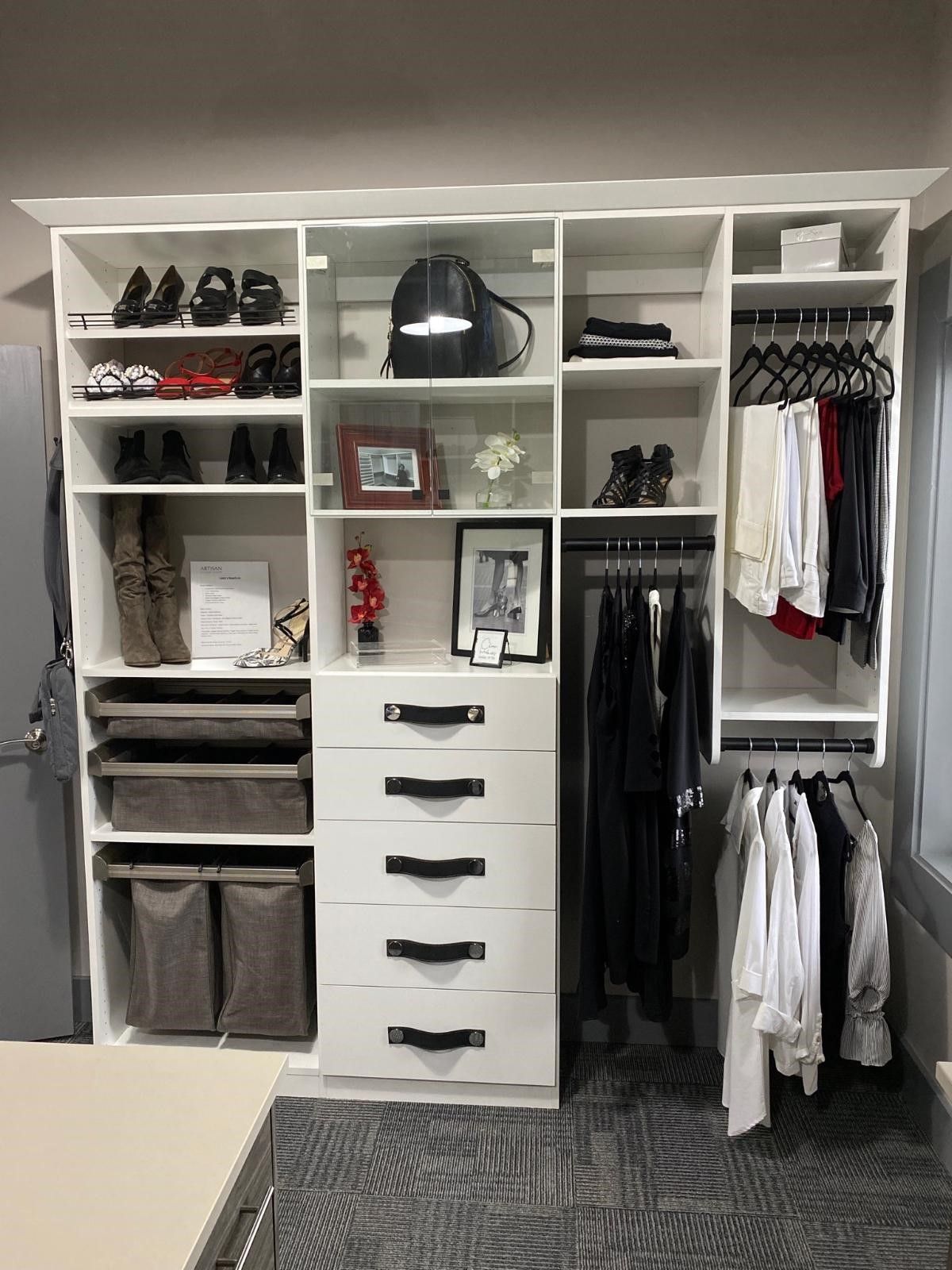 The Sky is the Limit.
Get a Storage System For Every Room in Your House.
If you can imagine, we can create. At Artisan Custom Closets, we limit clutter, not imagination.
We give you the power, flexibility, and freedom to imagine storage solutions anywhere you want in your house.
That means you can have the perfect storage system in any room and space of your house.
Want walk-in closets in your bedroom that spell luxury, class, and provide excellent storage space? Fancy custom shelving in your pantry, smart and efficient garage storage solutions or a kid's reach-in closet? We can custom create to your storage needs, and style it to your liking.
Schedule a Free Consultation Today.
Design. Manufacture. Install.
We Do It All.
Enjoy a Stress-Free and Personalized Experience With Us.
With Artisan Custom Closets, we are all about delivering memorable experiences to our clients because we want you to smile, save, and come back for more. And to ensure this, we handle everything under one roof, including design, manufacture, and installation.
As we handle your project from start to finish, this saves you time & money. Rest assured, you get the same standard of quality all the way.
Wait, there's more! We pair you up with a dedicated consultant who facilitates you at every step of the process. Be it design inspiration, 3D system plans, cost options, or installation, we offer you a personalized and stress-free experience like no other.
One-On-One Collaboration
3D Imaging— You Get Exactly What You Ask For.
With us, you never have to settle for less. We give you the control to view your customized closet in a realistic vision using a 3D CAD program. This means you can see what your custom closet would look like before it is made.
Based on the visuals, you can always make changes and amendments. We will customize once you finalize and are fully satisfied with the design. At Artisan Custom Closets, we give you endless possibilities to choose from.
Collaborate with our designer to custom-create your storage space. Choose from
· Over 40 Colors
· 15 Door Styles
· With 200 Accent Colors
Get a custom closet designed to your style, space and budget.