Your mudroom is the first thing you notice when you arrive at your house—at least when you enter by the back or side door—so besides its functionality, it must create a good first impression.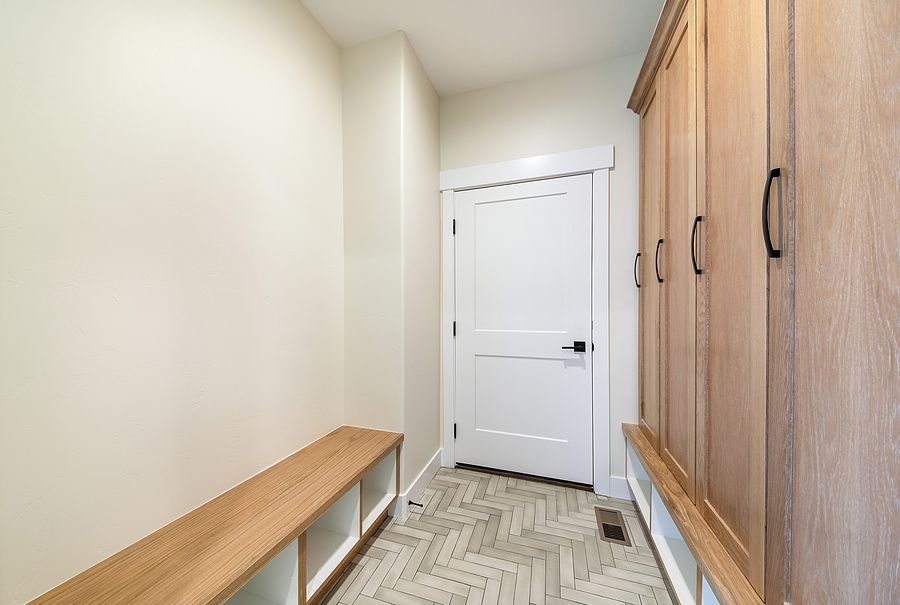 Mudrooms are important to help keep order in our homes and lives, so having a well-organized one is necessary. Because mudrooms can store so much, making the most of key organization ideas is crucial to preventing them from becoming a dumping ground.

Here are some amazing techniques you can use for your mudroom makeover.

Tips for Maximizing Your Small Mudroom

Enough storage space in your home is always important, especially in a high-traffic area like a mudroom. But what if your design or layout is small?

A well-designed one can help organize your life and save you time. Various factors must be considered when building a mudroom, such as storage, seating, and traffic flow.

If you have a small doorway, you can make your area more spacious by using clever small mudroom designs.

1. Install Built-In Drawers & Storage
Shoe cubbies are more popular in mudrooms than drawers as built-in storage options. On the other hand, drawers provide cleaner and more defined organization spaces, making your mudroom look less cluttered. It is critical to consider utility when installing cabinets and drawers. Longer cabinets are perfect for long coats and scarves, while deep drawers provide space for shoes and other bulkier items that must be stowed away.

Include open storage for items that need to be easily retrieved, such as umbrellas or yoga mats. You can put hidden charging stations for iPads, phones, smartwatches, other electronic devices, and animal food bowls.

2. Illuminate the Space Properly
When designing a mudroom to provide visual appeal, textured walls or tiling can be improved with task or accent lighting.
Install a lamp to illuminate the space at night and a runner mat to make the area feel more like a room rather than a hallway. You can take a devoted bench nook to the next level with a pair of sconces.
Consider incorporating ambient lighting and sconces on either side of the mudroom entry, or decorate with decorative string lights to provide a soft, warm glow.
In contrast, installing dramatic pendant lighting fixtures may benefit an entryway mudroom with higher ceilings. Whatever style you choose, all mudroom décor will have one thing in common: the need for quality lighting to tie the entire look together.

3. Add A Reflective Surface
Because of its versatility, a huge mirror is an ideal addition to your mudroom. Before leaving the house, check yourself and your outfit in the mirror. Mirrors also reflect light and might make your mudroom appear larger than it is. This reflection method increases a room's brightness while adding ambiance and dimension.

When carefully placed to reflect windows and doorways, mirrors capture brilliant natural and artificial mood light - and distribute it into dark corners, creating a sense of space.

4. Use All Available Wall Space
A small mudroom should make the most of every inch of space with a bench with open space underneath and lots of vertical storage in open cubbies with a few well-placed hooks.
Utilizing vertical space is an excellent method to maximize storage in a small mudroom. Install hooks on the walls to hang coats, jackets, backpacks, and other objects.
Hooks not only give a convenient spot to hang things, but they also help free up important floor space. Use wall-mounted organizers with sections or pockets to store smaller items like keys, wallets, or sunglasses.

5. Keep Your Space Organized
When properly planned and managed, mudrooms may become a multifunctional room that helps your household stay organized and provides a cleaner outlook.

Aside from providing additional storage space, adding a bench can help you balance yourself while removing footwear. The seat can also transform your mudroom into an informal waiting area for guests.

A well-planned layout for cabinets in your mudroom might provide storage to compensate for other sections of the house that lack storage. On the other hand, combining cabinets with baskets might also help you make the greatest use of space. So the mudroom doesn't look too cluttered or congested.

Remember the function of your mudroom, the type of design you want, and how to include storage and illumination into the space while planning it. You may design a useful and custom mudroom to make your life more orderly and stress-free.

Speak with one of Artisan Custom Closets' design professionals, and they will assist you in building a mudroom with plenty of storage to make your small space look bigger. We will be delighted to help you design the ideal space for your requirements.