You could've sworn that you had not one but two jars of sun-dried tomatoes but returned from the pantry with none. Maybe they've somehow slid behind that stack of storage containers (which, in your head, you're thinking, "Why did I store those there?"), so you go back again. Nope, empty-handed again. If you only had more storage space, a trip to the pantry wouldn't always feel akin to a game of hide-and-seek.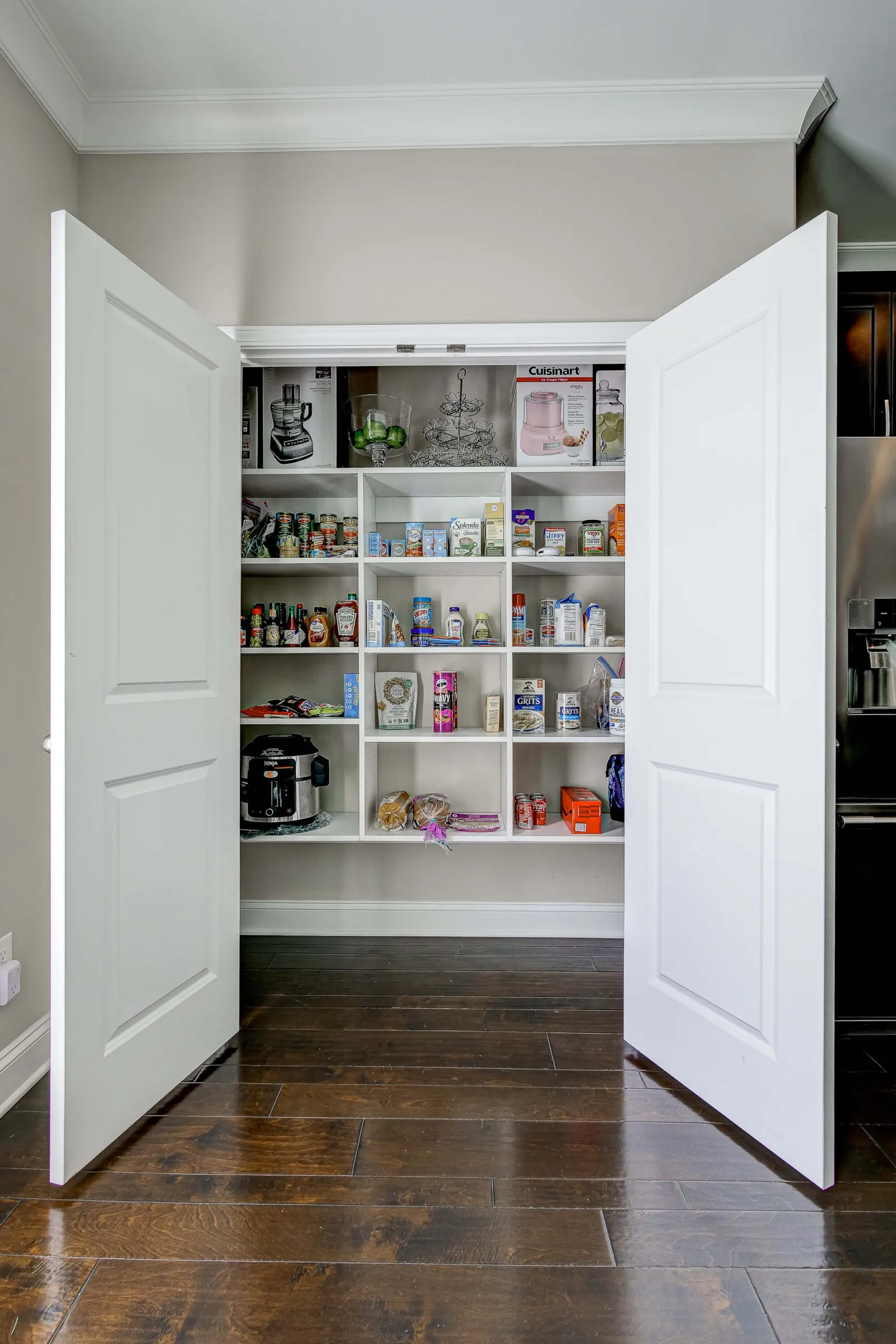 Here's the thing: it shouldn't be a question of whether you lack storage space — more so whether you're maximizing the space already available. A pantry makeover, if not a custom panty design, may be what your inner chef needs to utilize every inch of space to achieve the minimalist pantry of even the most discerning Pinterest's dreams.

It's all about efficiency and often establishing a new set of rules for how you go about not only arranging and organizing but stocking the pantry. That goes double when working with limited shelving, which tends to be the issue for most homeowners. So, without further ado, let's take a quick look at some of the innovative ideas from our Artisan Custom Closets team.

Develop a System
One of the most common mistakes people make is how they restock a pantry. You need a system. You also need to break down the pantry into sections — in other words, "categorize" the space to ensure every product has its place. What should go where? Which items have become staples in your household? What makes the most sense for you and your family? You may even want to be brand loyal to certain products to introduce some order to the chaos that is your pantry, and this isn't just about uniformity but making sure you can stack what needs to be stacked more orderly.

Keep an Inventory
Pantries are a bit like small businesses. You only have so much shelf space available to you. You also have a range of customers you'll be serving regularly — and by customers, we mean family members, but you get the drift. Create an inventory to meet your needs in products and space, and then keep tabs on what leaves the shelves to ensure you never overbuy or stock items that no one uses. More importantly, set a reminder on your calendar to double-check what's low, what may not be necessary to stock anymore, whether you need additional bins or containers, etc.

Set a Few Parameters
Not everything needs to be as easily accessible as you think. Set a few parameters for yourself with what you store in your pantry, and move the rest to another storage area in your home. Too many options can just lead to clutter. Consider stocking only three types of pasta, for instance. Cut the number of spices you have on hand, especially when you rarely use most. Do the same with cereals, crackers, chips, and so on. While at it, schedule a once-a-month edit, making decisions based on what you use most often.

Invest in Storage Bins
Keeping a minimalist pantry often requires storage bins — clear storage bins, to be exact. For one, they're easily stackable. They also help minimize the clutter while allowing you to see what you have on hand. One pro tip to keep in the back of your mind is brand loyalty. Try to stick with one brand to ensure what should be stackable remains stackable. Otherwise, you risk falling back into the clutter you were dealing with before your pantry makeover.

Upgrade Pantry Shelving
If your pantry isn't providing the real estate you need, you may want to take a long, hard look at the accessibility and get creative with the space. There are many pantry shelving ideas, as are the modifications and solutions now available. Sliding cabinet racks, for example, ensure what's at the back of the pantry will always be within reach. Dividers can also help break up the space better and keep product categories organized. Mounting storage on the backside of pantry doors is another viable option.

Keeping a minimalist pantry starts with organization. Once that's done, however, it's more about maintenance than anything else. If you'd like more information on pantry shelving ideas and how to keep the chaos at bay, the team at Artisan Custom Closets would be more than happy to discuss your options. We offer free in-home design consultations, so contact us today.