Get Your Kids Organized Today!
Kids Custom Closets | Artisan Custom Closets | Nashville
Let the Fun Begin as the Clutter Goes Away!

Engage and Excite Your Little One to Conquer Clutter Chaos.
Don't all parents just wish their kids could be a little more organized every time they step on a doll or rampage over a lego house unknowingly? A forever messy room feels even worse when kids can't find school books, socks, stationary, or shoes, especially when running late.
But we have the perfect solution for you and your kids—Custom Kids Closets.
Order a custom-built closet to conquer chaotic clutter, and rein in jumbled messes.
Catering to homeowners in Nashville, Franklin, and Hendersonville, Tennessee, we make organizing for kids exciting, fun, and possible.
Schedule a free kids closet design consultation.
Custom Storage System With Personality and Functionality.
We Give Kids a Joyful Reason to Store as They Learn the Value and Art of Organizing.
At Artisan Custom Closets, we understand kids and their needs. We know that kids need reasoning to love and enjoy tidying up their rooms.
But at the same time, we are quite aware that they are growing up fast. Hence, their closets need to be functional, spacious, and adaptable to successfully maximize and fit the of their growing years. Keeping all this in consideration, we create custom closets that are incredibly functional and designed with your kids' personality and liking in mind.
Your kids get a closet that they love to organize and you get a clutter-free kid's room. It's a win-win all the way.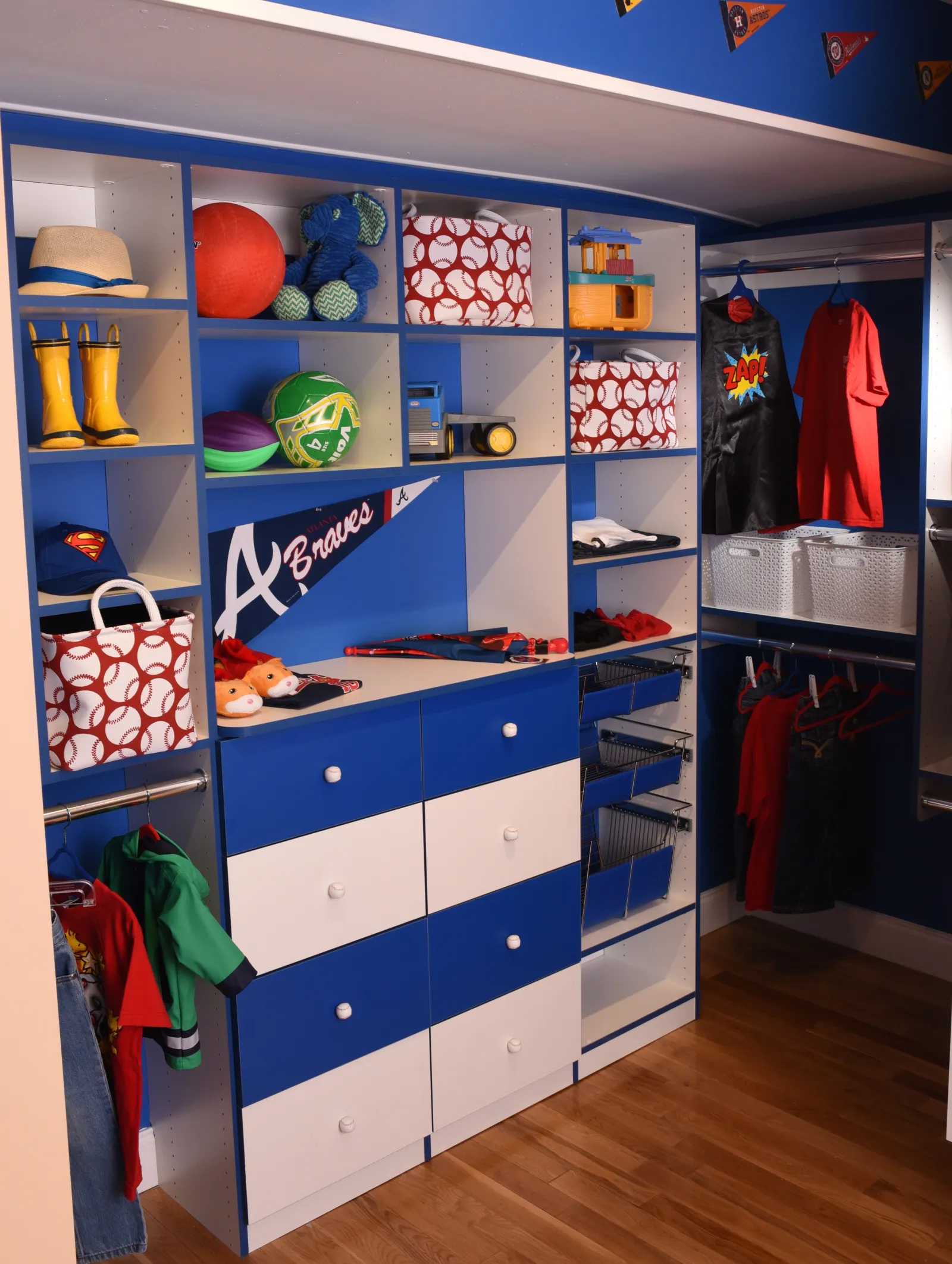 The Art is in The Details.
Our focus is to perfect even the smallest aspects of a kid's closet, thereby utilizing every inch of the space for kids' clothing, toys, games, accessories, books, and whatever they love, own, or will own. We collaborate with you to create customized closets with plenty of functional and adjustable storage options such as:
· Adjustable shelving
· Cubbies
· Versatile hanging rods
· Baskets
· Jewelry trays
· Kids valet
· Scoop front drawers
· Slip-and-hide storage cabinets
The Joy is in Making it Happen.
At Artisan Custom Closets, we provide custom-built closets to suit the growing needs of your little one and your budget. We aspire to design, manufacture and install closets to add functionality, flair, and fun to a kids' room.
To make it happen, visit our showroom with your little one. Work with our designer to create a functional kid's bedroom storage system they love. Get kids involved in the process. Give them a chance to explore options and explain what they want. We encourage parents to engage kids in the process so that they enjoy it from the start and look forward to their custom-built closet.
Our designer with creating a 3D image of the custom closet for your approval. Once you are completely happy with the result and give us a green signal, our team will manufacture it using the highest quality materials and install it in your kid's room in the fastest time.
So what are you waiting for? Get a kid's custom closet today. Let us create an organized space for your little one and a Zen moment for you.