Are you going to create a functional space? Minimalist closet design ideas are extremely popular among young people who prioritize comfort and maximizing internal space.
Because a closet is frequently a small space, using a minimalist style will allow you to make the most of it while keeping it neat. This style is highly trend-setting and in demand, and more designers and homeowners have adopted it. If you are considering designing an artisan custom closet for your home, we have the perfect look for you!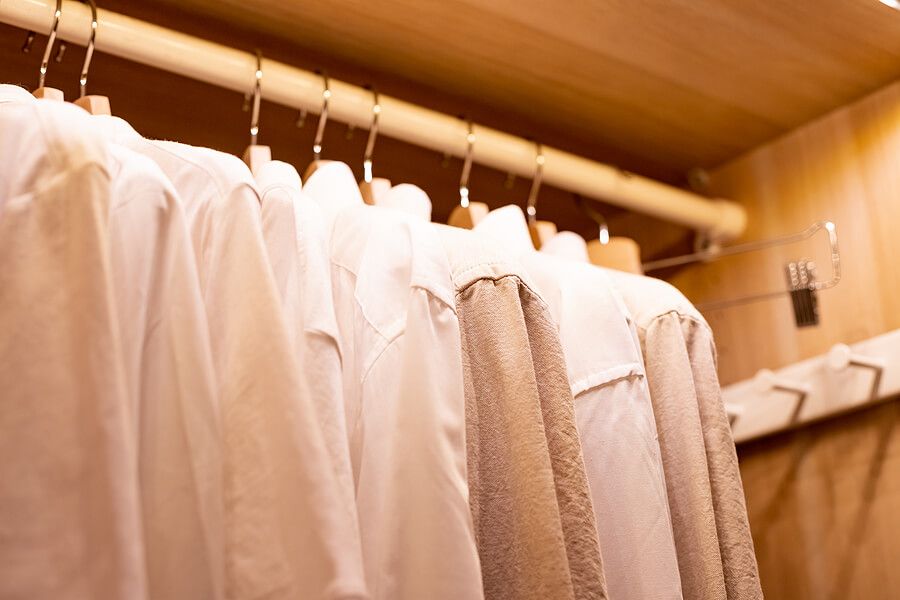 Five Ways to Craft Your Minimal Closet
Even though we commonly see minimalist designs in large homes, the style is especially ideal for tiny homes since it generates harmony and a sense of order.

A lack of furniture and other interior features characterizes minimalism. However, they can be as comfortable, warm, and one-of-a-kind as any other. Here are some custom closet design ideas you can utilize:

Maximizing Use of Space
Keep a few things in mind if you want to maximize your closet space. Begin by determining the measurements of the area. This will assist you in determining how much space you have available. You'll also need to consider what storage options you'll need to meet your needs effectively. Shelves, drawers, and rods are all required for a working closet. Install wall-mounted cabinets, shoe racks, and adjustable hanging rods for additional storage.

Incorporate a Neutral Color Scheme
Minimalism is typically associated with monochrome, black and white, black and grey, grey and white, etc. However, you may use different hues of plywood, dark-stained wood, and so on. Avoid going too colorful; it doesn't embrace minimalism.
Use a light, neutral color scheme to create a more spacious closet. You can also add a touch of color with other neutral tones to create a more visually appealing space.

Utilize Natural Lighting Where Possible
Lighting is critical in every closet design but especially important in a minimal closet. There will be no glitzy crystal chandeliers in a minimalist closet. If your closet has windows, let the natural light illuminate it, as it's the most effective light source available.

A large window with curtains is ideal, but a good skylight will suffice. You'll be surprised at how quickly your closet can transform from a foreboding cavern to a lovely sitting room simply by adding sunlight.
Most closets rely on in-unit lighting, so choosing the right light fixtures is important. Modern LED lights, hidden lighting, and spotlights are all good options for minimalist closets. Ensure the closet is well-lit to easily see your clothes and other belongings.

Think About Open Storage
This is one of the easiest improvements you can make to your wardrobe to give it a more boutique, minimalist appearance.

Purge your overstuffed closet and display the best of what you own to give the room a sense of purpose and simplicity. Open shelving, shoe racks, small jewelry, and small accessories containers will help you discover items quickly!

Using baskets is an easy way to add storage and organize your closet space. Baskets are ideal for miscellaneous items that don't have a home but are chic enough to display in plain sight.

Add in Small Accessories
Although the furniture in a minimalist closet is limited to the essentials, there must be enough room and storage to accommodate all of what you own in an orderly manner.

The appropriate chair or rug can transform a closet into an elegant changing room rather than a storage space (though it should ideally be both). Small items like a soft chair or a basic, monochrome rug will help you feel relaxed and leisurely if you don't want your closet to look like a glorified parking spot for your clothing. These small pieces are also an opportunity to add a splash of color to your design concept!

Minimalist closet design ideas emphasize the quality of materials, textures, and the use of modern elements to create a functional minimalist closet with a tight organization system and optimal use of space.

As a result, it's critical to design a space that works for you and is unique to you. Otherwise, a minimalist closet that does not fit into your space is considerably more unrealistic. This is when you can look into professional custom closet solutions.

Designing a minimal custom closet can be both a fun and demanding job, allowing you to create your ideal storage system that fits precisely in your area.

With our team of professionals at Artisan Custom Closets, you can build an efficient custom closet that matches your demands. We offer creative storage ideas and precisely plan how to use your space best. Contact us today for a free consultation for all your custom closet needs.