When you feel the urge to refresh and renew, there's no better outlet than your unassuming closet! It's a small space, so it won't take too much time, money, or energy to revamp, and yet you use it every day-sometimes multiple times per day.
It's well worth the effort to make a few upgrades, replace outdated fixtures, and brush on a fresh coat of paint to bring your closet into the trends of the "roaring 2020s."
21st-Century Customizations to Consider
We anticipated the rise of smart accessories in our 2023 trend predictions. And boy, were we right!
Temperature, humidity, and lighting can be controlled from your phone with a single tap. Everything has a USB port—even your closet drawers. We've fully entered the technology age.
While some of these upgrades are easiest to employ building a closet from the ground up, you can still jump onto this bandwagon with a few simple hacks:
Installing outlets with USB ports. Or better yet-purchase vanities, end tables, etc., with built-in USB ports.
Purchase a humidifier and air purifier to prolong the life of your garments.
Motion-activated lights along the floor or ceiling will trigger only when you enter the room, saving costs on electricity.
Using lighting to highlight and emphasize is huge among home trends and design in every room. LED lighting with adjustable colors is simple enough to install in shelving for an almost museum-like effect to display jewelry, accessories, and shoes.
A Multi-Purpose Room
One of the latest home trends and design is overall utility. It's about considering your needs and habits and upgrading to make your life easier.
Closets are rarely just for clothes these days. Sitting areas, vanities, and "cloffices" that can serve as remote working spaces are all commonplace!
And like we said, it doesn't stop in the bedroom. We've even serviced a client that wanted a microwave and wine fridge in their laundry room! Anything is possible with the right crew.
While it varies per person, a closet that matches your lifestyle and needs might:
Have specialized storage for the items you use most. That could mean extra hooks for hats, deep-set shelving for heavy linens and comforters, etc.
Contain custom closet drawers or pull-out racks designed for your accessories, keeping them neat and easy to organize.
Include an island or fold-out workstation for folding, packing, and ironing.
Similarly, current trends are all about ease of maintenance. That sometimes means minimalism: spaces free of clutter and debris, smooth and simple surfaces that can be wiped down in a single moment, etc.
It can also mean choosing materials and fixtures that require little to no maintenance. For example, engineered wood that isn't sensitive to temperature or humidity is very popular for shelving and flooring.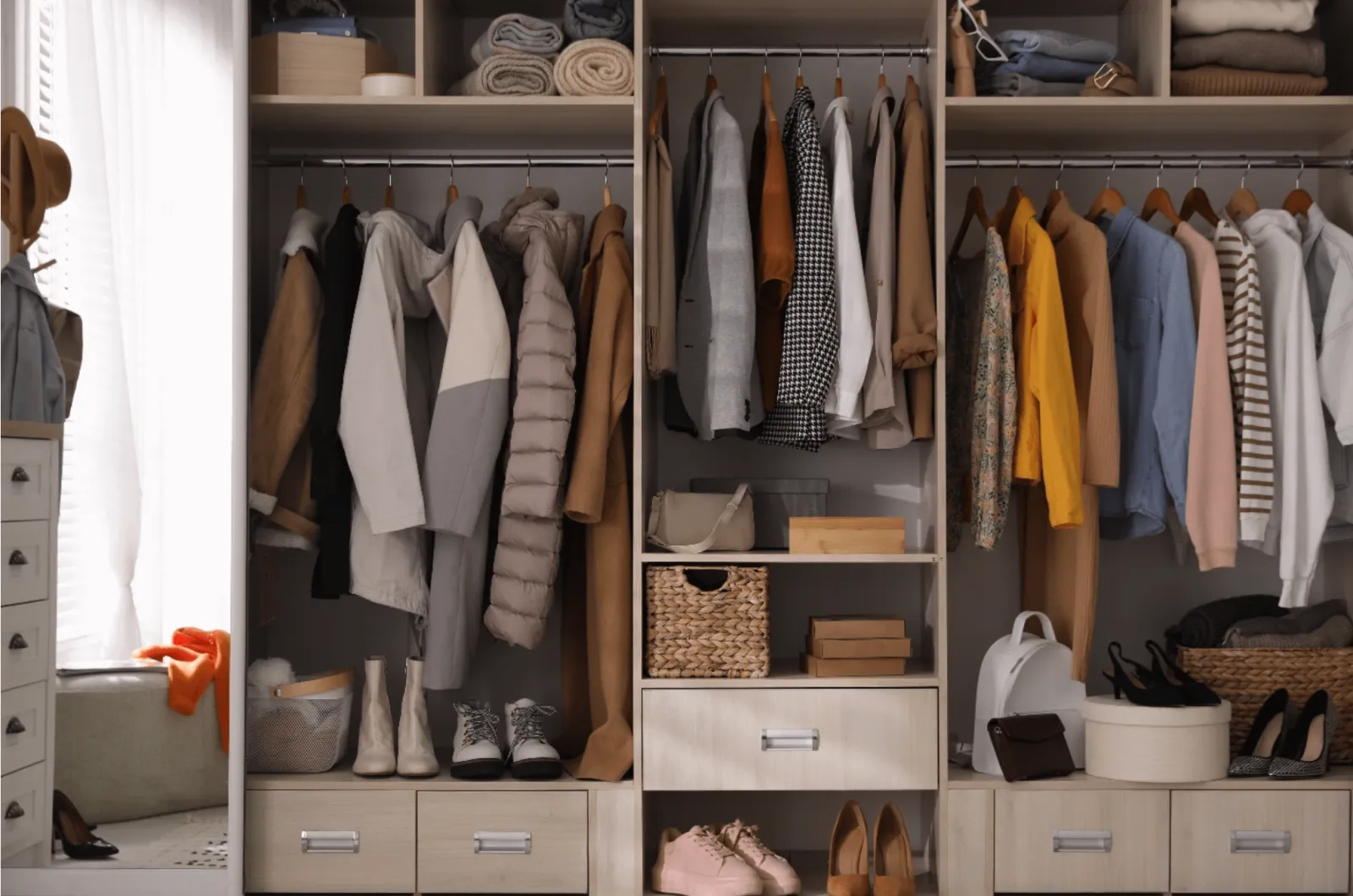 Going Natural and Eco-Friendly
From shelving to storage, today's conscious consumer wants to make sustainable, eco-friendly choices-even in their closets.
At Artisan Custom Closets, we partner with suppliers that value sustainability as much as we do. This means using recovered or recycled wood in construction.
It also means choosing a wood with low formaldehyde emission levels and ensuring the manufacturing processes are green and efficient. Read more about our commitment to making all of our closets green.
Hand-in-hand with this trend is transitioning to light, natural tones and materials. The desire to bring the outdoors indoors came into light following the pandemic and shut down and hasn't gone anywhere since.
It's about inspiring a feeling of zen and tranquility with just a few color and design choices.
Take a quick look at this two-toned master closet for an example: light wood tones matched with white. It's a noted preference for a clean, simple design influencing many of these closet trends.
Whether you're building a closet in your new home or looking into home trends and design to refresh an existing space, our expert team can help you turn these trends into a closet with everything you want and need. Reach out today to schedule your free consultation!